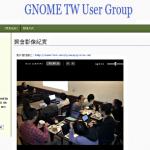 A lot of good things came out of the COSCUP / GNOME.Asia 2010 event: not only did GNOME.Asia committee recruit 5 more core members, but Max has taken on the challenge to run a local GNOME User Group! The website is already up and the Taiwan GNOME User Group has a regular monthly meeting day: the first Tuesday of every month. The first meeting was successfully hosted exactly a month ago, on September 7th which is less than a month after the conference,  and pictures of  the past two meetings are viewable here.
The group aims to address the needs of both GNOME developers and users. As far as users are concerned they are planning to host an installfest very soon and a launch party for GNOME 3.0 release. On the contributors side of things, they have widely promoted the GNOME Women Outreach Program and a few young women members have already applied. Their next efforts will be centered around attracting more contributors into GNOME localization. Members are also considering to start a campaign to entice all those unknown Taiwanese GNOME users into participating in the group's activities as well as count them. Those are all very interesting ideas and definitely just a beginning!
Congratulations are definitely in order for the launch of GNOME.tw and a special thank you goes to Max, Imacat, Rex and all the participants who are making the local Taiwan GNOME User Group a reality!