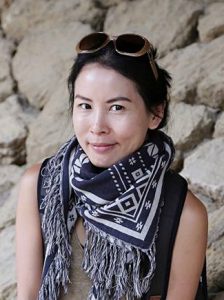 Pockey Lam is an advocate of Open Education and Free / Open Source Software. She has been Vice President of Digital Freedom Foundation since 2009, the non-profit organization behind Software Freedom Day, Hardware Freedom Day, Education Freedom Day and Document Freedom Day. Previously she was the President of the Beijing GNU/Linux User Group. In 2008, she founded Greenboard, a NGO about open education solution in migrant workers schools in China. She also co-founded GNOME.Asia in 2008 and became the lead organizer until 2012.
Pockey has given talks to different Free and Open Source conferences including the WikiSym + OpenSym 2013 in Hong Kong, FOSSASIA 2014 in Phnom Penh, GNOME Asia Summit in Vietnam, Bangalore and Taiwan, and many Software Freedom Day events in Beijing, Shantou and Phnom Penh.
In order to spend all this time volunteering and making a better world, Pockey works as director in dao². an information technology company she co-founded in 2005 to help business owners achieve their goals. She was also VP Marketing of the Gdium Project, an effort striving to allow everybody to access knowledge for free and the CEO of Compario China, an eCommerce solution provider founded in France as well as the Vice General Manager of Willsee China, a corporate gifts factory in South China. In her early career stage, she focused in the marketing communications field working in advertising and public relations agencies in Hong Kong and Beijing.