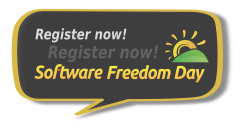 The The Digital Freedom Foundation is very happy to announce that its fourteenth edition of Software Freedom Day will be celebrated this coming Saturday on September 16, 2017. If you haven't registered your team yet it's time to do it now!
So as usual registering an SFD event is as simple as 1-2-3:
1. Create a wiki account if you don't already have one
2. Create a wiki page in your area under this page
3. Go to the registration page to register and let us know exactly who and where you are.
At the end of all this you'll appear on the SFD 2017 Map here with all the other teams and be easy to spot.
We want to thank our usual sponsors Google, Linode, Canonical, the FSF and FSFE. We would also like to thank Freiheit technologies, a software company based in Hamburg, Germany for continuing to support us. Full details of our sponsors are available at this page.
Back to SFD registration we have an exhaustive StartGuide here for newcomers and for the others who need help, and the SFD-Discuss mailing list is probably the best place to get prompt support.
So get ready to celebrate and happy preparations to all!