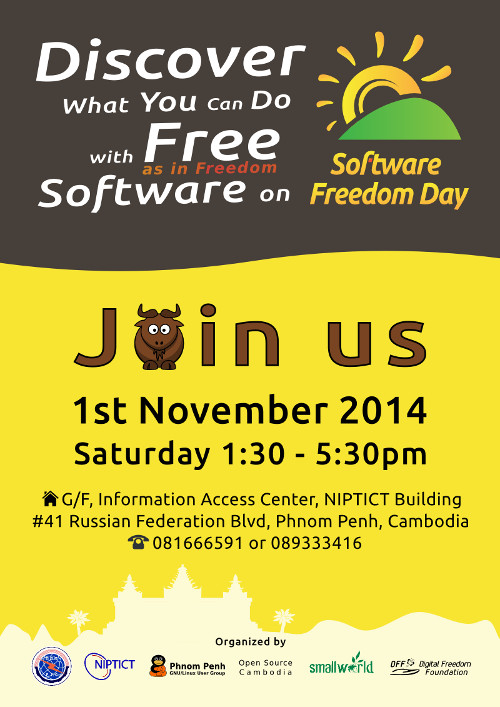 The Digital Freedom Foundation is organizing our Software Freedom Day event in Phnom Penh together with the National Institute of Posts Telecommunications and ICT and the Ministry of Posts and Telecommunications on November 1st at the NIPTICT Building. There will be 14 talks (9 in Khmer and 5 in English) with topics covering free and open source software ranging from operating system, learning platforms, website development, resource map, servers, to security. Here is the detailed schedule and speakers profiles.
We expect to have more than a hundred people to attend and aim to target both the university audience and the young workforce, on top of presentations and workshops, we (assisted by various communities) will be holding booths (e.g. Moodle, Mozilla, RouterOS, Ubuntu and Blender) to allow for more individuals discussions. All in all it's been a joy preparing for this event, allowing us to talk and plan resources with people from different local communities such as OpenSourceCambodia and Smallworld Cambodia.
The event will start at 1:30pm tomorrow, if you happen to be in Phnom Penh please do drop by!