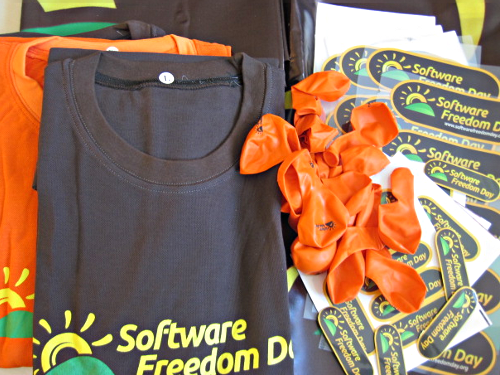 Since its launched a week ago, we already have 188 SFD events registered from over 60 countries.
Team packs are now READY to ship and the deadline to request for this excellent Schway is TOMORROW! If you plan to organize a Software Freedom Day (SFD) event this year, but haven't registered yet, you should do it now! Schwag availability is subject to first come first served basis (200 packs in total) and each pack will include:
3 t-shirts
a 2-meter long banner
20 stickers
10 tshirt transfer labels (make your own SFD tshirts)
3 DVDs (OpenDisc, FreeCulture and FreeDistro (PC-BSD ISO included) and Free BSD)
20 balloons
a  flyer
Registration is very easy, you just need to :
If you have any issue regarding registration, please:
Read the create the team page howto or,
Contact us via email: sfd-discuss(at)sf-day.org or IRC: #sfd @freenode server.
If you wonder what is SFD or how to organize or participate in a SFD event? Please go to our website and read our startguide.
If you have already registered your SFD event, you should receive your team pack in early September. All the best to your preparation!
Please help us to promote Software Freedom Day by placing a SFD web banner on your website / blog and link back to your SFD event page or softwarefreedomday.org front page.