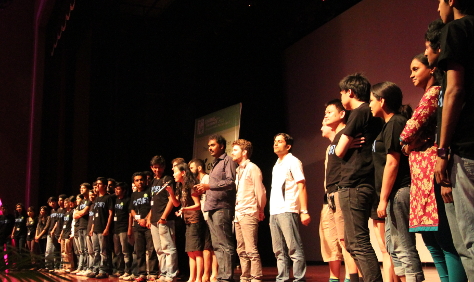 After Beijing, Ho-Chi-Minh City and Taipei, the forth GNOME.Asia Summit took place in Bangalore, India on April 2nd and 3rd 2011. Organized right before GNOME 3.0 release the feedback has been overwhelming with many people telling us it was the best Free and Open Source Software conference ever in India! Having chosen a theme to echo the changes GNOME is going through "The next generation free desktop: GNOME 3.0" we were able to deliver over 40 presentations and lightning talks from 30 speakers coming as far as Canada, USA, France, Germany, Belgium, Sweden. Of course Asian countries such as China, Taiwan, the Philippines and India were well represented too. In short the whole world came to speak about GNOME at the GNOME.Asia Summit 2011 in Bangalore and apparently really enjoyed it!
On the attendance side out of the 1,400 online registrations a thousand participants actually showed up at the conference (very consistent ratio over the years when registration is free) with a split of 80% students and 20% professionals. Of course this wouldn't have been possible without the support of our 15 sponsors and partners (yeah!), the 30 volunteers who helped us on site and the 6 exhibitors who took the time to bring valuable activities and discussions during our breaks. A special thank you also goes to the journalists who made it to the conference and helped to cover the event.
In terms of successes it was the first time we had over 90% GNOME related talks, which is a 20% improvement over our "previous record" in Beijing 4 years ago! We can already feel the good things coming out of this event such as several GNOME User Groups in the making all over India (Bangalore, Chennai, New Delhi, etc) as of now busy with website building and members recruitment, or GNOME.Asia new popularity generating a lot requests from various Asian communities to host the next summit.
Another major achievement of the GNOME.Asia Summit 2011 was the diversity and range of activities offered together with the summit. On top of the conference, we also hosted :
5 days hackfest attended by 17 hackers (Release, Marketing and GNOME.Asia teams), with successful outcome ranging from team building (April Fools joke), a successful and on time GNOME 3.0 release, GNOME.org ready for launch and GNOME 3 website improvements, release notes, advocacy, etc.
1 day installfest on a hundred machines all using the latest and greatest of OpenSUSE
5 days GNOME 3.0 helpdesk where we helped a hundred users to copy GNOME 3 images to their USB sticks or directly supported installation on their laptops
2 days student training with 7 talks and 3 hand on sessions per day, reaching out to 260 students
1 day business session with 4 talks given by The GNOME Foundation, Oracle, EDF and Lanedo
2 days shooting of marketing video campaign "I am GNOME"
1 face to face distribution collaboration session between interested parties on site
A huge thank you goes to the GNOME release, marketing & GNOME.Asia teams, our speakers, our trainers, our volunteers and our participants as well as our sponsors and partners Google, Oracle, Mozilla, Novell, Lemote, Lanedo, EDF, Candis Group, JoomlArt!, Dayananda Sagar Institutions, Intel, Airtel, Convergent, Linux Format, Linux Pilot, and The Hindu. We also would like to specially thank Bharath who worked around the clock and allowed us to put things together in Bangalore. We couldn't have made such a wonderful event without all of you!
And now you can enjoy those great moments that made the whole event unforgettable! For those of you living in Asia it is time to subscribe to the GNOME.Asia, GNOME Bangalore or GNOME India mailing list if you have done so yet, and for everybody else time to try out GNOME 3 and visit a launch party in your area. Last but not least, see you all next year!