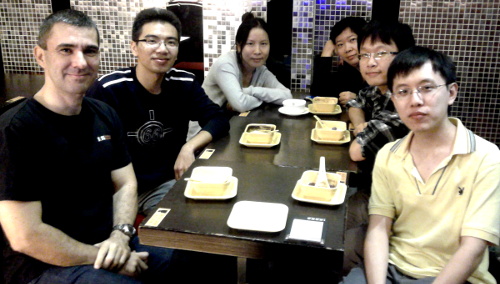 We happened to be in Guangzhou earlier this week and spent a wonderful evening with the core members of the local GNU/Linux user group in Guangzhou. They gave us an overview of their group history and progress: basically it is a two years old group with over 700 people subscribed to their mailing list and around 5 core members to manage the group activities. They host regular meetings on a monthly basis in different locations such as restaurants or classrooms. They also organized Software Freedom Day events the past two years and recorded over 100 participants in 2012. While we shared our experiences of how we ran and grew the Beijing GNU/Linux User group with them.
They also mentioned that half of their members are interested in "free" hardware highlighting the growing connection between two movements that we feel very linked. In fact we cannot ignore the fact that hardware needs software to operate and a bit of free culture to make those logos, the documentation and the potential courses that go together to bring it to more people. Each of the movements (software, hardware, culture, OER) should care equally about each others in order to exist as they need one another to thrive. I truly believe that bringing those concepts as one within our communities and to the world will create a bigger impact for everyone.
To conclude, Guangzhou LUG wants to grow in terms of attending members and meeting frequency so we offered to put them in touch with the Shantou Linux Association as they are planning for their upcoming activities right now, and sharing ideas can't hurt. Besides, there are five universities in Guangzhou with computer science classes which are located in the same area and could become a very prosperous ground for cooperation and activities. That's another lead right there!
In light of all those discussions and plans we will be hosting a round table discussion mid December on our next visit to Guangzhou. We hope that getting members from each university and setting up a plan together will create a more diverse group in the area with a more balanced workload for everyone.
I am always very happy to meet passionate people from different communities and can't wait to meet them again soon!