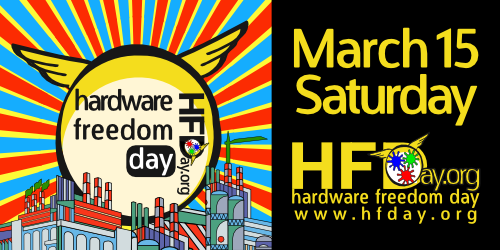 For its second edition Hardware Freedom Day will be celebrated on March 15th (Saturday) this year. The HFD 2014 registration has been launched about a month ago and the map of currently registered event is available here! This day's purpose is to get your area familiar with your work and get them interested to join and participate. Should you be a hackerspace or simply a FLOSS user group without a space but with motivation and projects it's a great opportunity to make the extra effort and get more people to know about what you're doing.
For registration, simply create a wiki page and fill up this form. Please also make the event shine by using our HFD countdown and banners.
If you want to get some insights for your HFD events, we have had a few ideas submitted to the mailing list to enhance the celebration and we definitely need to see how those can be implemented. In the meantime, get your team ready, your hackerspace (or not) in order and celebrate HFD with us!