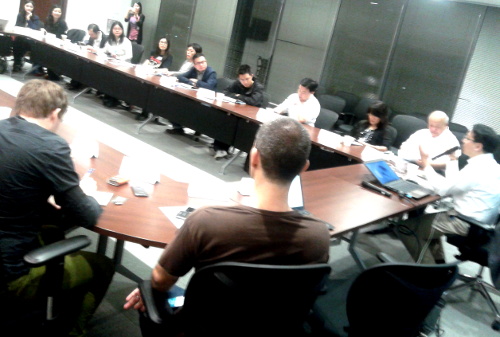 End of October saw us visiting Hong Kong another time. While we will not attend the OpenStack Summit the main purpose of our visit was to attend a round table discussion on the government's digital 21 consultation organized by Charles Mok office and Hong Kong in-Media. We were actually introduced to in-Media by our nice friends from Google and asked to give an overview on Open Data and Open Source, while other participants covered the other fields mentioned in the document.
OpenData has already started in Hong Kong and the government seems to be interested to push the adoption further. While this is a rather positive move, the government probably needs to put some efforts on standardization and improving both the quality and the feedback loop on the available data. On our side we were lucky enough to be assisted by Pia Waugh, former president of Software Freedom Internation and now working for the Australian government implementing Open Data.
(Free and) Open Source unfortunately is not mentioned at all in the document and we covered how important it is for governments to support the effort and what others have been doing for the past ten years. Hong Kong is probably a place where software is mainly imported and the only way to get tailor-made applications which Hong Kong companies can expect specific functionalities to cover their needs is by using Free Software. Not to mention that the government is also planning to bring programming to primary and secondary schools as well as boost start-ups and the SME business in general.
Overall we had a thorough and lengthy debate on those matters and I felt our points were well perceived. We have been recommended to push the discussion directly with the department who wrote the proposal and are now preparing for our next meeting.
In the meantime you can take a look at the slides I wrote to guide the debate here: digital21hk-comments-on-opendata-opensource