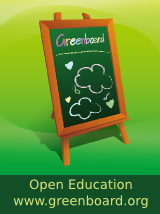 Being part of the Digital Freedom Foundation, I would like to share with you some good news!
DFF is announcing its inclusion of the Greenboard project, an Open Education project started in China and focusing on adding FOSS equipped computers to primary schools as a tool to their current curriculum. With years of experience pushing Free Software and OER in poor schools the DFF board has acquired great knowledge of the challenges associated with OER in general and specific educational constraints in particular, assets it is taking to promote around the world.
The first phase will be to publicize all its content into English so it is easily transferable to other places in the world with minimum efforts. Once this is done we will then be able to improve and develop more content while eventually starting to localize our resources to specific regions where opportunities arise.
Our current three international days celebrating and promoting Free Software, Free Culture and Open Hardware will be completed by a fourth day to enhance our efforts as well as bring light to the already existing hundreds of similar projects that the world counts today. The first instance of Education Freedom Day will be on January 18th, 2014.