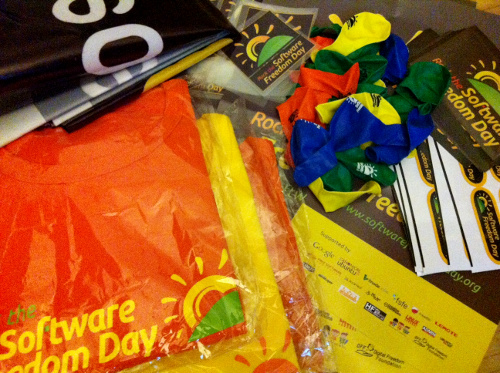 They're finally off! Yes, you read well, all the SFD team packs have left DFF office and are now on their way to your event. All registered teams before July 31 this year will receive the great stuff we have prepared for them. In total we packed and shipped about 200 packages together with our local community. This year every team pack includes not only our usual stuff which are three t-shirts, twenty t-shirt stickers, twenty balloons, twenty small-size stickers, a two-meter banner, and a A4 flyer, we also added three A3 posters and twenty big-size stickers.
A big thank you goes to Google, Canonical, Linode, the Free Software Foundation, FSFE, Linux Magazine, Ubuntu Users, Smart Developer, Admin magazine, Linux Journal, FreeBSD, Joomla!, Creative Commons and Open Clipart.
For those who missed the deadline, subscribe to our announce or discuss mailing lists to get notified next year and rush to our artwork page to download all the source files and produce your own goodies!
HAPPY PREPARATIONS TO ALL!