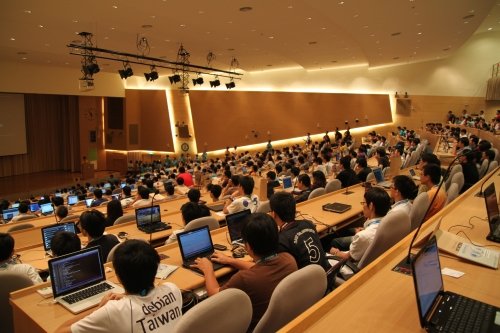 After Beijing and Ho-Chi-Minh, the third GNOME.Asia Summit, co-organized with COSCUP,  was successfully hosted in Taipei (Taiwan) on August 14th and 15th, 2010. It was a great two-day conference with 69 presentations and speakers coming from all over the world like China, Taiwan, Philippines, Japan, India, USA, France, Spain, Germany… That does not include the BOFs and lightning talks which definitely helped to bring the whole conference to a new level. A total of 977 participants, 25 sponsors,  20 news outlets, 10 exhibitors (including communities) and a hundred volunteers supported the event. We also had webcasts which attracted over 700 viewers each day joining the event from their homes!
What amazed me the most was that 95% (from my observation) of the participants were actually using GNOME as their desktop and we even spotted a few local developers using GNOME 3.0. Besides, Taiwanese Free and Open Source Software communities seem to be flourishing and and the conference was a great opportunity to start discussing with several of them to establish a GNOME User Group in Taiwan. Their response has been fantastic and  right now a mailing list  (gnome-tw-list |at| gnome.org and http://mail.gnome.org/mailman/listinfo/gnome-tw-list) and a dedicated IRC channel (#gnome-tw @ Freenode) are already up and running! In fact there are existing GNOME interest groups inside those various communities, and the creation of a GUG will definitely help transform those "little islands of GNOME" into a stronger GNOME representation addressing Taiwanese users and developers needs as well as inviting new comers to the joys of GTK+. I am glad to be part of GNOME.Asia and witnessing more local GNOME communities being built and growing in Asia!
I have summarize the whole event into the following report in terms of sponsors, media, presentations and post event assessment, enjoy!
Sponsors
We had a total of 25 sponsors both international and local companies, split into four levels of contribution. Nokia was the platinum level sponsor, KKBOX, Open Source Software Foundry, Yahoo!, Pixnet, Google, Delta and Oracle were our gold level sponsors. GodGame, Industrial Development Bureau Minsitry of Economic Affairs, Oxlab, Open Invention Network, Canonical and ezPeer were our silver level sponsors. Tcloud Computing, Trend Micro, VeryWed, Via, 5VT, iServer, Linpus were our bronze level sponsors. While Mark Shuttleworth initially committed to attend the conference, he had a unfortunate last minute reschedule preventing him from presenting as well. It's important to note that those kind of large scale Free and Open Source events can happen thanks to the commitments and support of the private sector.
Media
20 reporters were invited to the Summit while three were chosen as media partners for their special coverage of the event. The media partners were Engadget, Components Times and Linux Pilot. Linux Pilot interviewed Brian Cameron from The GNOME Foundation and Pockey Lam from GNOME.Asia. Below is a list of some of the articles covering the event and available online (and in Chinese):
http://www.linuxpilot.com/industry/society/kiji/2010081404
http://www.linuxpilot.com/industry/society/kiji/20100815
http://ghostsinthelab.org/?p=2299
http://www.linuxpilot.com/industry/event/kiji/2010060201
http://www.openfoundry.org/index.php?option=com_content&Itemid=296&id=2382&lang=en&task=view
http://www.ubuntuhome.com/coscupgnome-asia-2010.html
http://www.ctimes.com.tw/News/ShowNews.asp?O=201006181033350044
http://www.digitalwall.com/scripts/displaypr.asp?UID=18790
http://wenews.nownews.com/news/18/news_18811.html
Highlights of the Summit
All seats were booked just an hour and a half after the online registration went up. In addition to the thousand participants who joined the conference, an online video and text broadcast was set up to accommodate for the high demand: more than 700 people actually logged in and were able to attend all the sessions from the comfort of their homes.
As a direct result of the summit the local Taiwanese and surrounding Asian countries communities are now more actively involved with their international counterparts. In Taiwan they are working with the GNOME.Asia Committee to build a Taiwan GNOME Users Group. It is important to note that there were existing GNOME interest groups inside some of those communities, but nothing coordinated. The creation of a local GUG is going to transform those a little islands of GNOME into a stronger GNOME representation addressing local users and developers needs as well as inviting new comers to the joys of GTK+.
In parallel the GNOME.Asia Committee spotted five more Asian members to join their effort and bring additional strength to the organization: Allan Caeg (Ph), Bharath Acharya (In), Utian Ayuba (Id), Akhil Laddha (In) and Chun Hung Huang (Tw). More details can be found at https://pockey.dao2.com/2010/09/gnome-asia-committee-2010/
GNOME Keynote
Brian Cameron (Director and Secretary for The GNOME Foundation and Advisor for the GNOME.Asia committee) gave a keynote speech and introduced the "Road to GNOME 3.0" to an audience outnumbered by GNOME users: "It was exciting to see so many free software lovers at GNOME.Asia in Taiwan. The many attendees seemed to really enjoy digging into the technical depths of the GNOME desktop which made things fun." Slides can be downloaded at http://coscup.org/2010/slides/15_0_0945_Opening.pdf
Emily Chen and Frederic Muller (GNOME.Asia Committee members) during the opening and closing speech also covered a bit of the history of GNOME.Asia, its yearly summits and how people could get involved between each event.
A list of the various topics covered during the conference is right below. One should be able to access all the slides at http://coscup.org/2010/zh-tw/program .
Technologies
Bugzilla, Bug squad and GNOME 3 by Akhil Laddha, Novell
GNOME Build Environment on Solaris by Dave Lin, Release Engineer, Sun
xPad – Building Simple Tablet OS with Gtk/WebKit by Penk, xpud.org
Building and Using a Memory Profiler by Holger Freyther, zecke
Introducing GStreamer, the Media Framework on GNU/Linux by Li Shi Yuan, FourDollars
Understanding Internals of WebKit/GTK by Holger Freyther, zecke
Hybrid Desktop/Web applications with WebKitGTK+ by Xan Lapez, Webkit maintainer
eekboard by Daiki Ueno, Red Hat i18n team
Exploring New Paradigms of Computing for GNOME by Allan Caeg, Philippine Open Source Network Inc.
Accessibility
Introduction of GNOME Accessibility and Suggestions on Improvement by Professor Ye
GNOME Accessibility Development and Testing by Miao Tao and Ke Wang, SUN China
Localization
How to integrate to the FOSS world with Chinese by Funda Wang, GNOME China localization team leader
Education
GNOME in Education: a practical case study by Frederic Muller, Founder of Greenboard Open Education
The Foundation
Introduction of The GNOME Foundation by Brian Cameron, Director and Secretary of The GNOME Foundation
The Community
GNOME in Asia by Emily Chen, GNOME.Asia Committee Member
Hosting GNOME.Asia is FUN by Pockey Lam, GNOME.Asia Committee Member
Post-event Survey Results
A total of 188 surveys were filled by our visitors of the conference. Half of them are already Linux users and 86% of the Linux users use GNOME as their Desktops. According to the survey the conference has helped visitors to get a better understanding and perception of GNOME. Some of the collected feedbacks and results have been sampled below:
62% of the surveyed participants would like to join the Taiwan GNOME User Group meeting, which means that assuming all existing GNOME users would be interested, 20% non-GNOME users would be willing to join a GNOME user group meeting. Again 51% of the respondents left their email addresses to be contacted about the first local GUG meeting. Out of the people who are willing to join the meeting, 58% of them think the meeting should be hosted quarterly, 23% bi-monthly and 16% monthly respectively.
The following statistics specify in which area they think the GNOME Desktop should improve. You will note that only 23% have no opinion, meaning that we were able to collect feedbacks from 2/3 of the non-GNOME users responding to the survey.
29% Usability
27% Tools
19% Appearance
9% Games
5% Others (e.g. don't know, stability, lack applications)
23% No comment
We can even add that with only 43% of GNOME users among the respondents we are getting 82% of them willing to recommend their friends to use GNOME. Definitely something interesting and which could make one believe that the extra 39% are most likely going to try GNOME out in the near future.
Out of the 18% negative responses ("no I will not recommend GNOME"), the reasons of not doing so are:
Not familiar with Linux or GNOME
Friends are not using Linux
Prefer to recommend other desktop
This sounds like a very reasonable thing to do and shows that the survey has been taken seriously by the respondents, thus giving more weight to the other feedbacks.
75% of the respondents would like to see more events similar to COSCUP / GNOME.Asia 2010 in Taiwan.
On a less statistical note we also asked respondents to write a comment about their perception of GNOME after the conference. Here are some of the quotes we gathered:
GNOME 3 is very interesting, cool and attractive, looking forward to the launch
Learnt a lot more about GNOME through the conference and will definitely try it out
GNOME Shell looks cool and should play with it
GNOME education is very cool
GNOME has a lot of great tools
A lot of contributors in the GNOME project
Got so much new ideas about GNOME out of the conference
Not to become MacOSX
The new GNOME Shell is too complex to do task switching, the "traditional" tarkbar-like UI is out fashion, but it's useful through many years.
GNOME/GTK+ should also focus a bit more on embedded devices, not to let KDE monopolise. Besides it is suggested to make a light version of GNOME
Chinese localisation is quite complete, but still have room for improvement e.g. Pango+Cairo applications, there is Chinese display problem
Overall GNOME.Asia efforts to bring local summits to each Asian country seem to be a valuable goal well received by the local participants. It also seems that the intended side effect of growing the GNOME community and attracting more users is being achieved. After three years of operations we can see the creation of local GNOME User Groups in 2 out of the 3 countries visited, a strengthen GNOME.Asia committee and a willingness by this committee to go beyond a summit organization effort. The committee is already actively working on the next chapter of GNOME.Asia Summit, trying to coordinate with the GNOME 3.0 release as well as already looking at the 2012 chapter. GNOME.Asia Summit is definitely here to stay!
Click here to visualize those great moments that make a conference unforgettable 🙂